Greetings from San Francisco
May 22, 2011 :: Tags: san francisco :: Comments Off on Greetings from San Francisco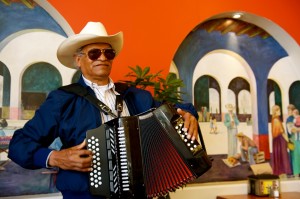 Good to be back in San Francisco for a couple of weeks. Meeting associates and friends. Some ZYX, Tom Evans and one Musical Affairs /verdier set up. A gorgeous Amazon REFERENZ present as well.
Had dinner at the slanted door. Still a good restaurant. Going back to the Ferry Building to try a pork belly sandwich at a food stand. Long long lines. Need to arrive there early. Also had dinner at Baker and Banker. Can not say it was impressive.
Yesterday had lunch at El Toro Taqueria with an associate where I met the musician in this picture.