Visiting Istanbul, Turkey
March 31, 2010 :: Tags: istanbul, travels, turkey :: Comments Off on Visiting Istanbul, Turkey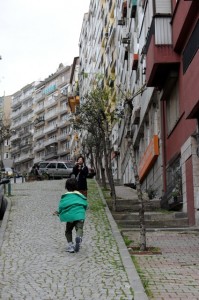 Visiting Turkey again. What a beautiful country. What a great people. Delicious food.
Istanbul has been selected as the 2010 European Culture Capital. I wonder which city be the 2011 Culture Capital in Europe. Feels such a difficult task to meet or surpass Istanbul's rich heritage.
I have been to Istanbul before. First, around 22 years ago when I met my parents after being away from them for nine years. At the time, I could not go to Iran, and they could not easily visit America. So, we selected Istanbul as our meeting point. Ever since then, Istanbul has a special place in my heart.
In the last 20some years Istanbul has changed a lot. It is a modern European city now. Nowhere as polluted as then, and significantly less scary to cross the street than before (which in Tehran is still an activity more risky than kissing your mate naked on a crowded sidewalk).
I am glad SORA is experiencing Istanbul at such an early age. He will of course be traveling here again, and again. It is important that he learns about different cultures, people and diversity.
Keep an eye on SORAsound blog for pictures.