Musical Affairs Grand Duettos in Pommele
June 6, 2010 :: Tags: musical affairs, speakers :: Comments Off on Musical Affairs Grand Duettos in Pommele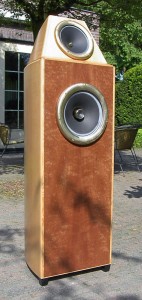 One more delighted customer, one more work of art from Hans Kortenbach of Musical Affairs. These beautiful Grand Duettos are the latest model of Musical Affairs top line speakers. They are custom made in Pommele.
This year we have been lucky enough to have placed some speakers in great homes. So, we can arrange for you to listen to Musical Affairs in multiple locations in North America. For enquiries please contact SORAsound.
Those who follow my blog and SORAsound NEWS, know that I have set up my own Musical Affairs Grand Crescendos with all DaVinci Audio Labs electronics, turntable and grand reference cartridge as well as Nordost cables. The digital line is EMM Labs and 47 Lab.