ZYX ARTisan Phono Stage
"I played an Artur Rubinstein performance of Chopin. The effect was so pronounced, so immediately noticeable, that I didn't make it halfway to my seat. I stood about six feet from the speakers and gaped. Rubinstein's technique is frequently described as "chiseled", a concept which never made a great deal of sense to me. After all, Chopin requires the greatest delicacy. Too much control, too heavy a hand, ruins the pieces. ……

What I heard that night was the extraordinary way Rubinstein attacked a note and ended it. Each note was perfectly shaped, like a precious jewel, precisely as long as the artist intended: chiseled. A few nights later I recalled Artur Schnabel's remark: "Anyone can play all the notes. What I do is play the space between the notes." I heard this witticism when I was in music school, and like Rubinstein's chisel, it never made a great deal of sense to me – until the ZYX finally made it intelligible."

Dr. Richard Weiner, Bound for Sound
"With its combination of exquisite detail retrieval, rich midrange tonality, and the ability to delineate dynamically complex musical passages, the Artisan consistently paid homage to whatever music I played through it."

Tim Aucremann, SoundStage! August 2008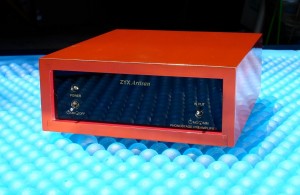 ZYX ARTisan Phono Stage Features
Input Resistors made by ZYX
The ARTisan preamplifier is designed using the resistor made by us. The resistor is made of pure copper wire, world first Cryogenically Purified Crystal Copper Wire which is also used in our R-1000 series X type. The resistor is made by winding the wire into a coil that has no inductance through a special process. Then our resistor can transfer the output signals with no noise and no inductance at all. You can listen to the effect in the pure sound of the Artisan.
CR type RIAA Equalizer
ARTisan employs a simple but most appropriate CR type RIAA equalizer circuit. Figure 1 shows RIAA recording circuit. As shown therein it has to be noticed that this circuit is comprised of CR configuration, as there is no necessity to employ other type of equalizer such as LCR or NF type. For precise reproduction of time information in musical elements, restoration is required to be made under the condition equal to original sound through CR type circuit. Because, music reproduction to natural sound equal to the reality is made best only by correctly reproducing time factor.
Noiseless Power Supply and Rectifier Circuits
ARTisan works with 9 pcs. of NiCd batteries in order to avoid normal power circuit noises. So the minute signals from an MC cartridge can be clearly amplified in the circuit. In addition, the Artisan is equipped with 2 types of stabilized rectifier circuits. One drives the linear amplification stage, and another equalizer stage. Thanks to these, extremely stable operation and noise-free amplification with wide dynamic range are secured.
Two types of Inputs, MC and MM
ARTisan accepts both MC and MM phono cartridges at respective input connectors. Figure 2 shows the Input Switch which enables you to use 2 turntables for comparison. For a listener who wishes to use an MC cartridge in the future, MM operation assures you of fine and unwearied performance of Artisan. MM input mode allows connection with an MC cartridge through ZYX CPP-1 pre-preamplifier, or an MC step-up transformer, or a head amplifier, so you can use 2 MC cartridges simultaneously. Please refer it to Figure 3 wiring diagram.
100% Playback Circuit
To playback the sound information of an MC cartridge in 100% fidelity, ARTisan has a simple but special amplification circuit. Normally each electric part has its own time domain, and it gives unbalanced sound as the result. So, ZYX had to correct these each time domain to the perfect one through our own circuit. For example, we never use all resistors and capacitors with normal way. (patent pending)
Electrically Skeleton Wooden Box
A metallic shielded box makes the sound signals disturbed by some eddy currents occurred on the shielding surfaces. The ARTisan has no metallic surface around the circuitry. It enables you to listen to the effect in the fastest response in the sound of MC cartridge.
Three different colors are available: Japanese Red semi-matt finished with genuine Japanese traditional 'urushi' lacquer coating (yes, you guessed it right, Mehran's favorite), matt Black "urushi" finish, and natural Clear wooden finish with urethane coating.
Handling
Hook up RCA audio cables to a turntable system and preamplifier. Make sure that the tone-arm grounding wire is connected to the GND terminal of the Artisan. Connection of the grounding wire from the phono motor is subject to your listening result. Be sure to lower the output of the speaker with the level control before cable hook up.
Note: Please do not open the wooden box of ARTisan, otherwise the input resistors will be damaged soon, since they are made of very thin wire. Also, do not touch the batteries to avoid electrical shock on you.