September 26, 2010 :: Tags: Dick Durbin, politics, Senator Durbin, SORA :: Comments Off on SORA and Senator Dick Durbin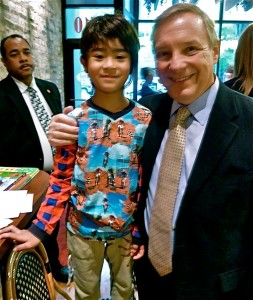 What a delight. By total coincidence SORA and I were at a Cafe were Senator Dick Durbin was holding a press conference. I had a question to ask, as always leading to a follow up discussion. My main question was regarding the economy. I wanted to know how the senator rated the success/performance of Obama administration's stimulus plan. He gave it a 5. I said "WOW, I would have given it a 2 or  3." But his explanation was good and I appreciated that.
We even talked about another country. I wish I had used a bit more polite word in talking about the president of that country.
I thanked the senator and sat at a table with SORA.
Lo'and behold, Senator Durbin asked me if he and his wife, Loretta could sit with us. We were together for 45 minutes. I still had a lot of questions that I forgot to ask! He and his wife were two of the most humble, down to earth people I have ever met in my life. It was almost like being in a flight and making a conversation with the person sitting next to you.
Senator Durbin is an intelligent, knowledgeable gentleman, even if one disagrees with him politically. He can talk about many subjects and trends, and links them together. He reminded me of a boss / friend I have who used to be a Harvard Business School professor. In fact, I wrote to my friend about the senator that evening. My friend thanked me, and said he is a fan of Senator Durbin.
SORA was also very interested despite initially being shy about it. Later on he asked me questions about the Senator, our President, etc. I was happy to have such a conversation with him in particular since last week I drove him to South Chicago to show him President Obama's neighborhood (easier to get in the White House than to the beginning of that block!)
Absolutely made our day. I can not thank the Senator and Loretta enough for their time and generosity.