Chicago – Pork Belly Sandwiches and Alinea
Tags: alinea, chicago, restaurants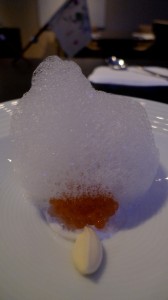 We have been in Chicago now for three years. Getting to like it very much. I still use a few buts and ifs in describing Chicago and think of San Francisco as home but Chicago is getting there too.
I have not been traveling much lately. Kinda unusual for me as for most my career I have been traveling way too much. I do not know my way around the city well yet but good to be home. A few weeks ago took Nami to dinner at Alinea for our tenth year anniversary. Alinea is an amazing restaurant. Probably the best I have ever been to. First time I payed about $880 for a dinner for two (few sips of alcohol for me, plenty for Nami) and I thought the meal was actually under-priced (good definition of value).
It has been getting cold here but not living up to the reputation of Chicago as a cold windy city. For all I know, this could be my San Francisco neighborhood weather at nights.
It is really a shame we lost the bid to host the Olympics. Still Chicago has given some good gifts to the world: our president and SORAsound. I know some smart aleck may remind me of some of our past governors among a list of other politicians we have had. But let us please not get there as each state has had its own gift in those regards.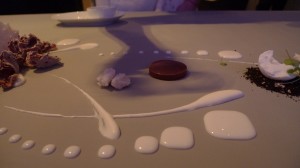 Back to Alinea, you are served a 29 course meal which a hungry person like me from a deprived background would thoroughly enjoy. Each serving is small, beautifully presented, tasting just great. Last desert course used our whole table as the dish! A different beauty from the Japanese Kaiseki but this would be where I will happily take my special Japanese guests to impress them with how well we do in America.
Chicago also offers some great dives – from BBQ to Hot Dogs at Hot Doug where you have to wait in line for almost an hour to get to the counter and order your hot dogs. Chicago arguably has the best restaurants in America, although San Francisco and New York are better known for their restaurants.
A great contributor to the Chicago restaurant scene is Chef Paul Kahan, a great chef, audiophile, analog man, and partner in a few hip and good food places of Chicago including Black Bird, Avec, The Publican, Big Star Taqueria, and The Violet Hour. The Publican makes the best pork belly sandwiches I have ever had. The Violet hour is a beautiful bar, Speak Easy on the outside, nice London or Tokyo bar interior inside.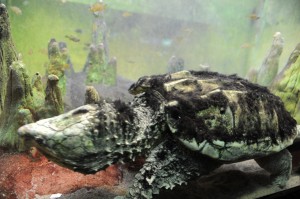 The cultural scene in Chicago is rather impressive. In the great midwest tradition, it is downplayed, but it is visibly there. We have great museums, good music halls, an aquarium with funky frogs and turtles, and lots of ethnic food. At times I go to a dumpy place to have Bulgarian breakfast. Nice. Delicious home cooked kinda food but they seem to forget smoking cigarettes is band inside restaurants. Same with one of my favorite Bosnian restaurants in Chicago.
Our beaches are beautiful. Given the city boy I am, I enjoy going to the beaches by the high rises. The best of both worlds. More on that, in the summer.