Julia Janssen Visiting SORAsound
April 5, 2010 :: Tags: amazon audio :: Comments Off on Julia Janssen Visiting SORAsound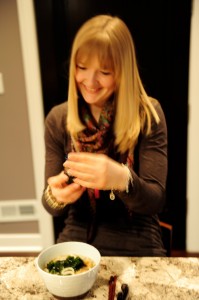 We are delighted to be hosting Julia Janssen, the beautiful and intelligent daughter of our good friend, Harmut Janssen of Amazon Audio at our home for a week. Julia will be returning to Chicago this summer for a few weeks, learning the American way of living, practicing English, and of course teaching SORA how to dance and do gymnastics.
Our manufacturers, and some others we work with have become our close friends. In fact, I do not distribute a line unless I think the manufacturer and his family are people I would like to make part of our family and closest inner circle.
Some of our customers have also become our good friends, visiting us every now and then. In all honesty, this has been the best part of SORAsound. Sharing the joy of music, and above all forming new friendships.