Tags: amazon audio, moerch, RMAF, ZYX, ZYX chats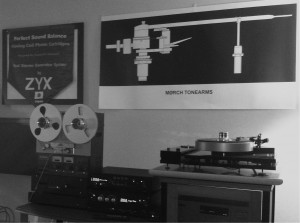 We are happy to see that The Audio Beat declared our room as Best of Show at RMAF 2011 held a few days ago. This is to a great part thanks to our friends at Volti Audio with their amazing horn speakers as well as DSA line stage and phono stage. My dear friend Ming of GOTO USA arranged the room and took care of lots of things. I can not thank him enough.
SORAsound showed AMAZON REFERENZ, Moerch DP8 tonearm, and ZYX Omega cartridge. The sound was great. Personally, I do not think we went out of our way to make the room sound good. In general, I am not so keen on shows. I mainly look forward to meet customers in person.
Given that, I spend a lot of time outside our own room, meeting manufacturers, checking out other products, and meeting customers I have talked to on the phone or emailed with but had never met in person. During this time my friend Hans Henrik Moerch and his wife, Benedikte stayed in the room all the time, taking care of the analog rig, and explaining their tonearm to visitors.  Hans Henrik is a perfectionist and very detailed oriented. Seen in this picture he is adjusting his poster, making sure it is straight. By the same token when he makes tonearms, not only he checks them out under light many times for consistency, he checks them under sun shine too!
Thanks again to the great team we had at RMAF and to The Audio Beat for their recognition of our room.